Ekonomernas Dagar is the biggest project organized by Föreningen Ekonomerna, the Business Association at Stockholm University. The project consists of several pre-events followed by the main event, a career fair for business- & economics students. The project, held for the 40th time in 2021, reduces the gap between students and the corporate world while serving as an important platform where companies and students meet.
In order to remain one of the top career fairs for business and economics students in Sweden, Ekonomernas Dagar 2021 will create and present a professional platform that gives students the possibility to be inspired by & meet potential employers. The project aims to lay the foundation for potential new networks for students, whilst simultaneously providing exhibitors with valuable exposure to students.
In light of the situation in 2021, the fair will be held digitally for the first time ever. There are some major changes in the organization and strategy.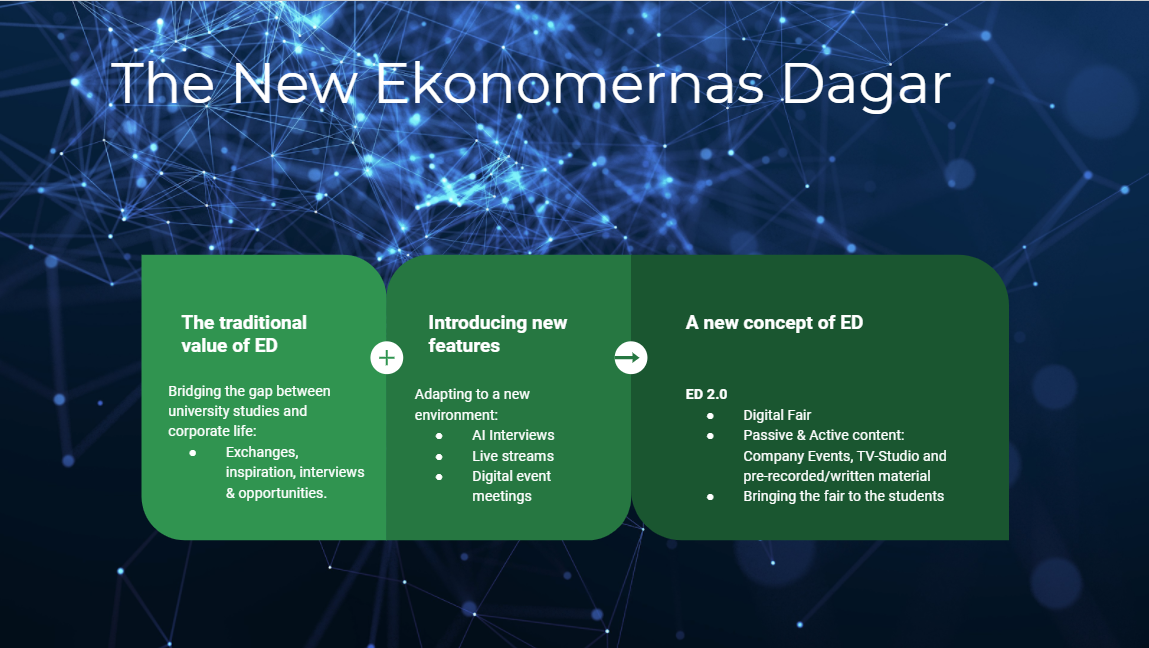 A project of this scale requires a well-thought-out strategy and planning in order to build up a robust and resilient organization. To build robustness, we have changed the structure to have clearer decision-making processes and responsibilities and we are putting in place measures to limit the impact of sudden changes that may occur during the project lifecycle. For resilience, we are focusing on collaboration and to build a supportive project group. We want people involved in this project to "probe the boundaries" of the organization and tolerate experiments and failures. This will make us stronger, more agile and it will lead to better project management.
We want people involved in this project to "probe the boundaries" of the organization and tolerate experiments and failures" – Project Leaders 2020/2021
Ekonomernas Dagar is directed towards business- & economics students of all orientations and majors, in all stages of their university studies at Stockholm University. This year we aim to attract an even greater number of students studying in other departments, such as the Department of Economics. The aim is to inspire students in an early stage of their studies, ease an interaction for the students in the middle of their studies with companies and integrate students in the final stage of their studies with the business world.
To achieve the goal of attracting more students from all departments, the focus is to enhance the quality of marketing and improve digital readiness by carrying out a Social Media Makeover as well as expanding marketing efforts by cooperating with the different departments of Stockholm University.